Office Cleaning & Janitorial Services in Las Vegas, Nevada

No matter what type of business you're in, your work environment needs to be professionally cleaned every business day to ensure it is welcoming and the best first impression for customers and visitors. Since 1998, CitiClean Services has provided professional and reliable office cleaning and janitorial services to Las Vegas, Nevada businesses with superior results.
Our reputation has been built on our 20 years of cleaning experience and customer satisfaction with every Las Vegas area commercial cleaning job. For the cleanest workplace in Las Vegas, call the professional commercial cleaners at CitiClean Services: (702) 803-2962. We are ready to meet all of your cleaning needs with a fleet of professional equipment and a knowledgeable staff. Make a good impression every day with a professionally cleaned office or workplace by CitiClean Services!
---
Call for a FREE Quote
---
CitiClean's 100% Risk Free, 14-Day FREE Trial
For many reasons, CitiClean Services has become the leading provider of janitorial services in Las Vegas. Now, for one more - our FREE trial! We understand that we're probably not the only company competing for this bid. We know that you want to be absolutely sure that you made the best decision for your Las Vegas area facility.
Once you've choose our bid, we will give you a 14 Day FREE Trial. Why? Simple. Actions speak louder than words. CitiClean Services wants to show you exactly how good your building will look before you become a customer. It's easy for companies to say what they're going to do for you... But will any of them actually do it for FREE before asking you to pay? Highly doubtful! That's how confident we are in our services.
If you're not completely satisfied after the 14 Day FREE Trial, simply tell us not to let the door hit us on the way out. However, we're pretty confident you're going to love us! Call (702) 803-2962 today.
---
Call for a FREE Quote
---
CitiClean Services: Las Vegas Commercial Cleaning Done Right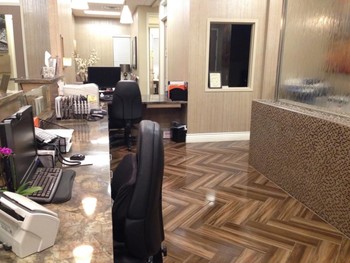 Because we know that each industry has specific cleaning requirements to meet its business needs, we have the knowledge and experience to exemplary clean any type of building or office space in the Las Vegas. The trustworthy Las Vegas cleaners at CitiClean Services provides expert janitorial services to a wide variety of Las Vegas area businesses, including:
professional office buildings
hotels
retail locations
restaurants
government
banks
education facilities
manufacturing
warehouses
and more, just call for a free quote!

Las Vegas Janitorial Services: For one-time cleaning service before/after a special event or routine janitorial service, call (702) 803-2962 to choose the janitorial services you need and ideal time of service for a maintenance plan customized to your business needs. Call (702) 803-2962 to set up a cleaning schedule tailored to best suit your Las Vegas area business.

Las Vegas Office Cleaning: You name it, we clean it. From floor to ceiling, we'll make sure your workplace is cleaned and sanitized. Routine cleaning includes: windows, carpet & floors, restrooms, kitchen/cafeteria/break room, reception area, and lobbies. Call CitiClean Services to discuss your cleaning requirements.
---
Call for a FREE Quote
---